BEC INTERNSHIP PROGRAM


Barbara Edwards Contemporary offers those interested in pursuing a career in the arts a unique opportunity to gain insight into all aspects related to the commercial art industry. Past interns have applied the skills and experiences gained while working at the gallery towards a number of subsequent endeavors including graduate and post-graduate degrees at leading international schools, the development of personal studio practices, and further work in both profit and non-profit galleries and institutions.
The program requires a minimum three-month commitment, with at least one shift each week. Interns receive experience in a wide variety of administrative and operational tasks including, but not limited to, exhibition programming, event organization, marketing, sales, archival documentation, and installation. Participants are encouraged to express specific areas of the business that they would like to explore in greater depth. In addition to regular weekly time spent at the gallery, interns are also urged to work exhibition openings and lectures as they prove to be valuable and exciting events. Internships may be eligible for credit with approval from participating educational institutions.
Interested applicants may send a letter of intent and CV to:

Barbara Edwards
barbara@becontemporary.com

For more information, contact:
barbara@becontemporary.com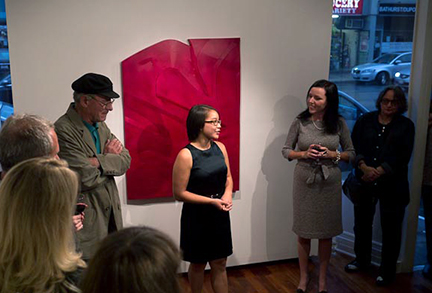 Left to right: Robert Murray, Ellen Chang-Richardson, Barbara Edwards
Intern Ellen Chang-Richardson giving her curatorial speech for Robert Murray's opening, September 2011